FINANCE
All-in-one, financial platform addressing the needs of all Wealth Management stakeholders.
Become a Market Disrupter with Tonic
Tonic Offerings for Wealth Management Lifecycle
Today for a retail bank, client acquisition would be impossible if they do not have an internet banking portal. We believe that investment banking and insurance will follow this trend.
With this in mind we partnered with industry experts and built an all in one financial platform which automates and consolidates all back office operations. We built this system with the investor at its core. From day one our goal was to make investing simple and safe to investors.
All-in-one, end-to-end - Wealth Management and Fund Administration
Client Onboarding
Client Onboarding
Prospective Client Portal
Cognitive ID / Video Match
Fallback Video Conferencing
Split Test Multiple Onboardings
GDPR Consent
KYC Rules and Scoring Engine
Name Check
Anti-Money Laundering
1
Automatic Compliance Workflow
Back Office Wealth Management Portal
Portfolio Management
Query enging for KPIs, Custom dashboards and reports
Portfolio, P/L, NAV Benchmarking
Order Management with compliance at its core
Automated Appropriateness testing
Corporate Action execution and management
Cash Movement and Reconciliation
Fee management and processing
Unit allocation, Automatic accruals
Fund performance benchmarking
NAV Reporting and Autamated Factsheet Generation
2
Trade advice
3
Trade instructions
Investor Portal
Full Transparency 24/7
Portfolio, P/L, NAV Benchmarking
Daily Portfolio Movement Report
Cash Movements and Balances
Third Party data feeds
Robo Advisory
AI enabled Portfolio and Investor Profile learning
Preference, Strategy & Risk Appetite trade propositions
Alerts
Market & Portfolio Position Notifcations
Tailored Data Feeds
Broker advice, News, Research, Custom reports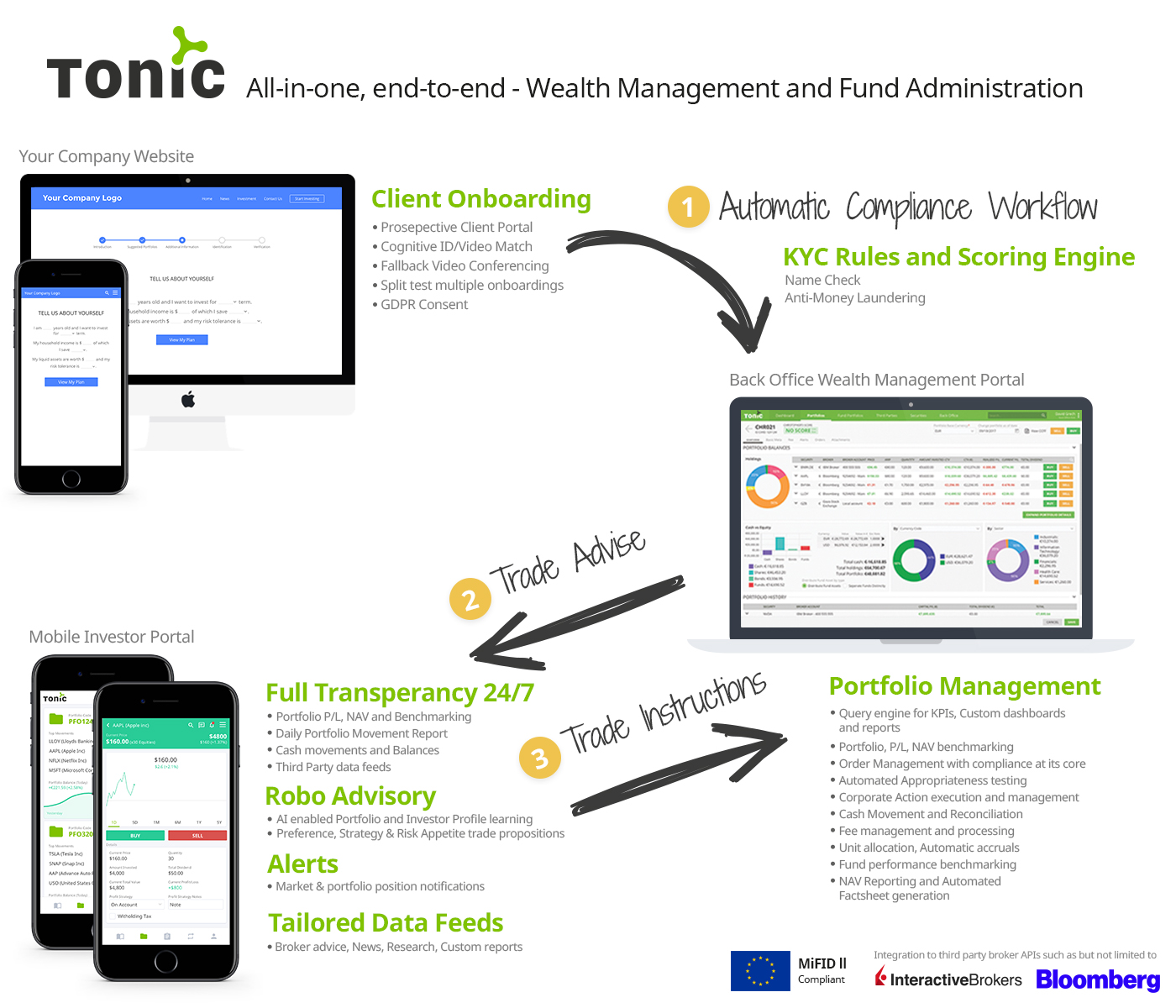 Demo videos
Visit our dedicated Tonic site to find demo videos about some of Tonic's main features.
Client Onboarding & KYC
Automated and configurable KYC framework is paramount for meeting an array of CCD compliance, regulatory and risk management requirements.
Ongoing KYC Monitoring
refresh
Document Management
Audit Trail
Dashboard Analytics
Reporting
Alarming
KYC automation framework - reducing manual intervention, supporting business growth, enhancing operational efficiency and lowering operational risk.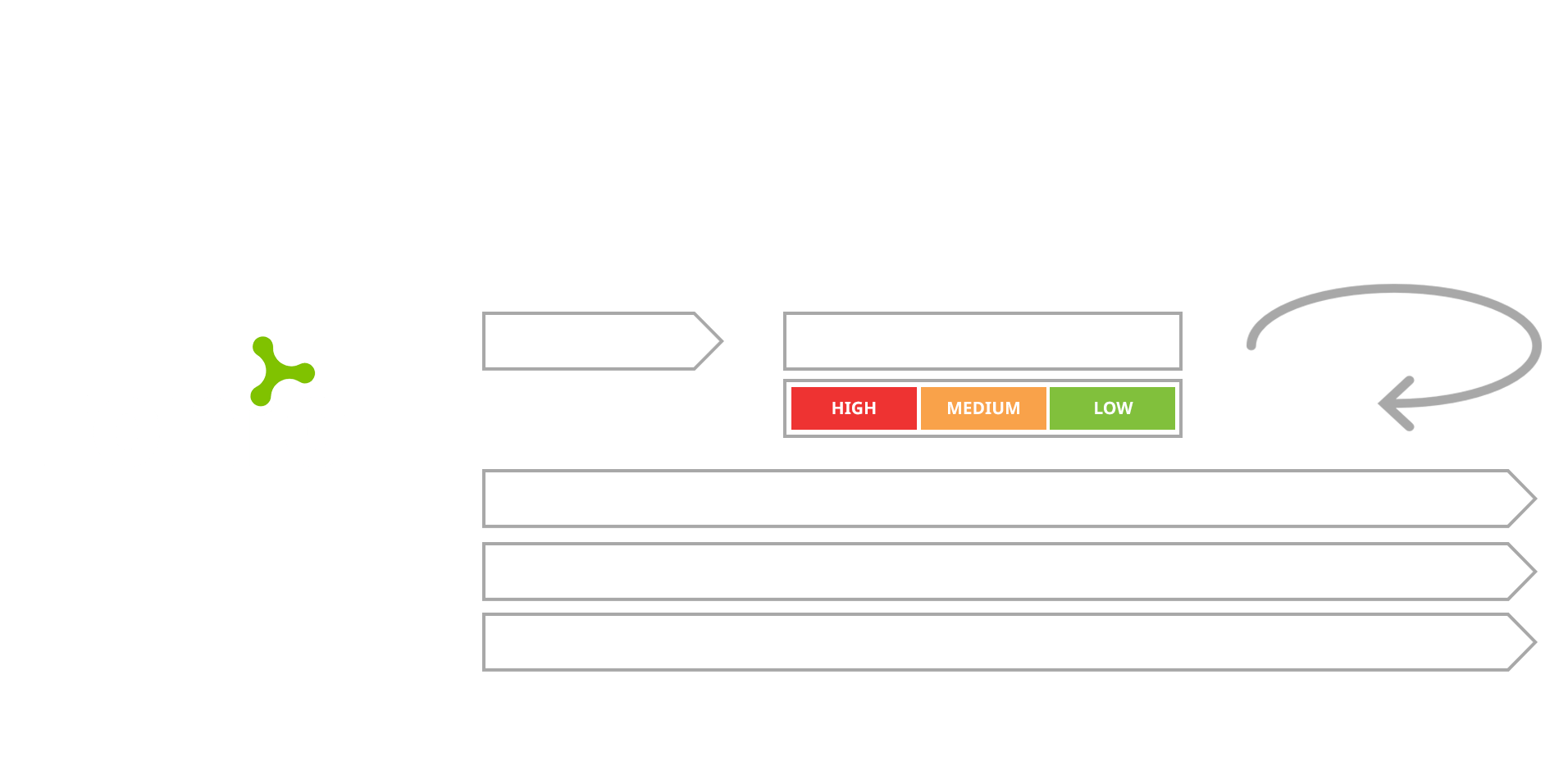 Tonic is a platform which enables Financial Services companies to streamline the engagement with potential customers
Easy configuration for Robo-Advisory
On-boarding via Video calling / Face detection using cognitive services
CRM capabilities with integrated document management
Rules engine to define KYC scoring with World Check integration
Workflow for approval of onboarding requests
Dashboard to provide insights on the whole process
GDPR consent management
For Wealth Management, Insurance, Funds, Banking, Brokers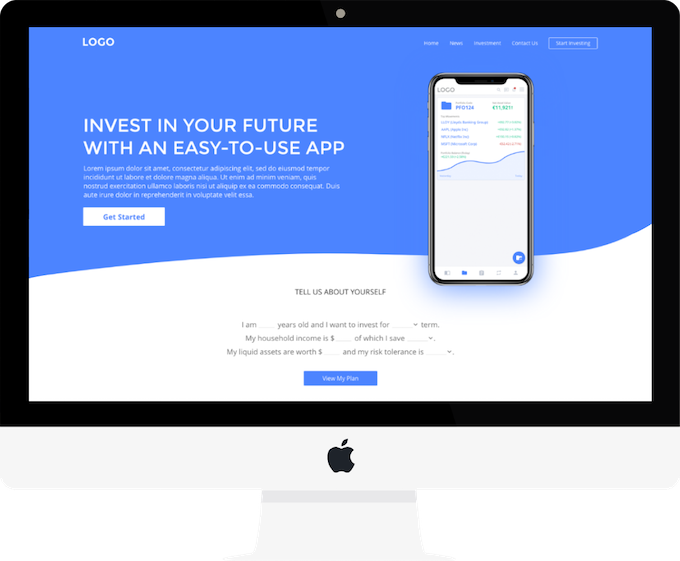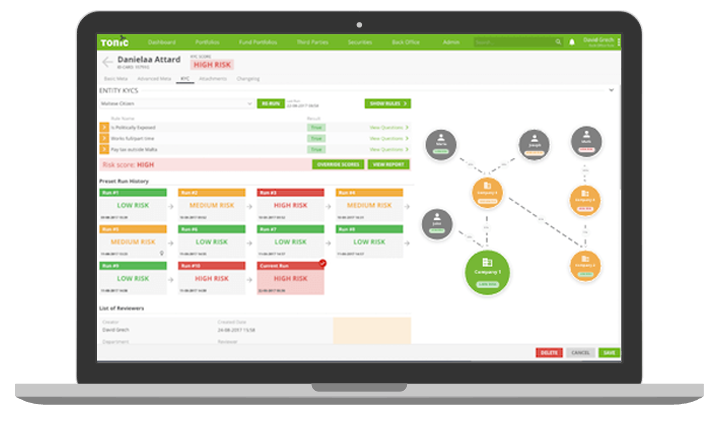 Mobile Investor Portal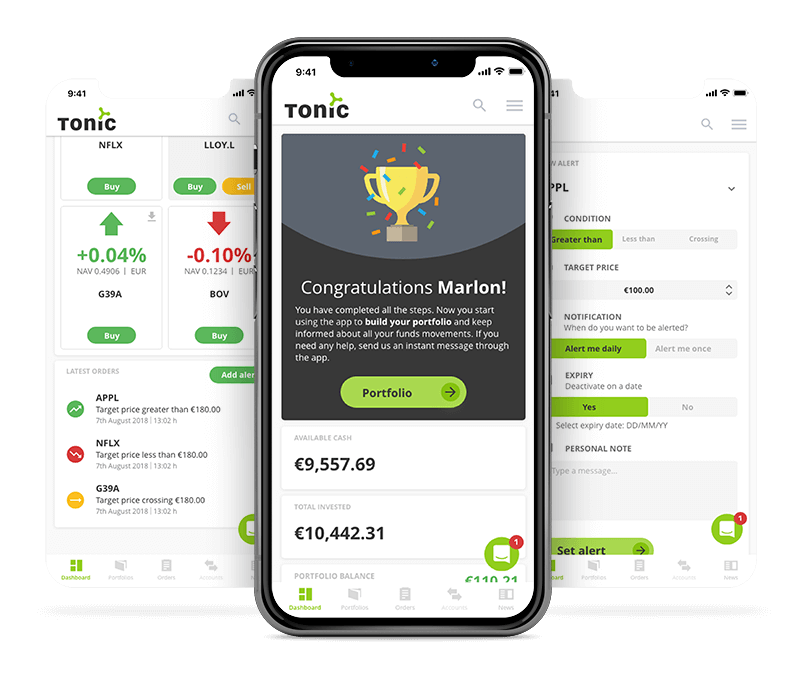 Tonic is a platform which enables Investors to manage their portfolio and trade directly from their mobile
Access to portfolio(s) from mobile
P/L Portfolio Reporting
Portfolio NAV and benchmarking
Daily Portfolio Movement Report
Place trades directly from mobile
Alerts for market movements and portfolio positioning changes
Review cash movements and balances
Read news and research from Wealth Manager
Interface to Robo-advisory data feed
Realtime transparency for Investors
Interface for third party data services (such as IB and Bloomberg)
For Investors
Robo Advisory
Tonic leverages AI to deliver tailor-made advice
Leveraging bot technology to process large volumes of data and produce trading propositions
Trading proposition can be published to clients with 1 click
Machine learning enables the bot to learn the investor's trading preferences and strategy
Truly personalized trading advice rather than generic investment listing
Wealth managers can push advice to a selected cross section of portfolios and risk appetites
Easy client dashboard to filter tips and execute buy/sell instructions
For Investors, Wealth Managers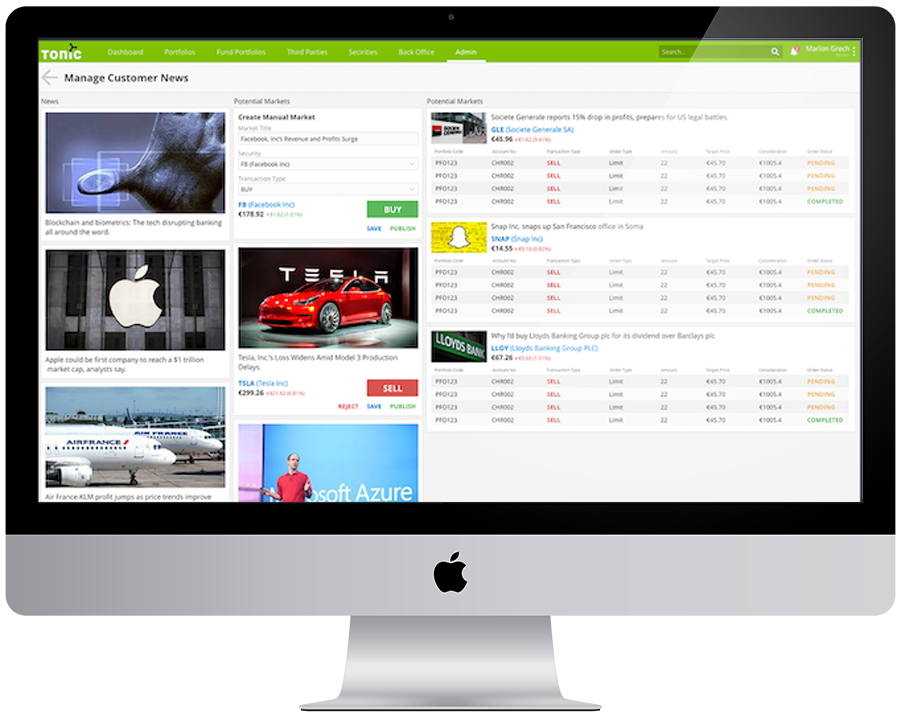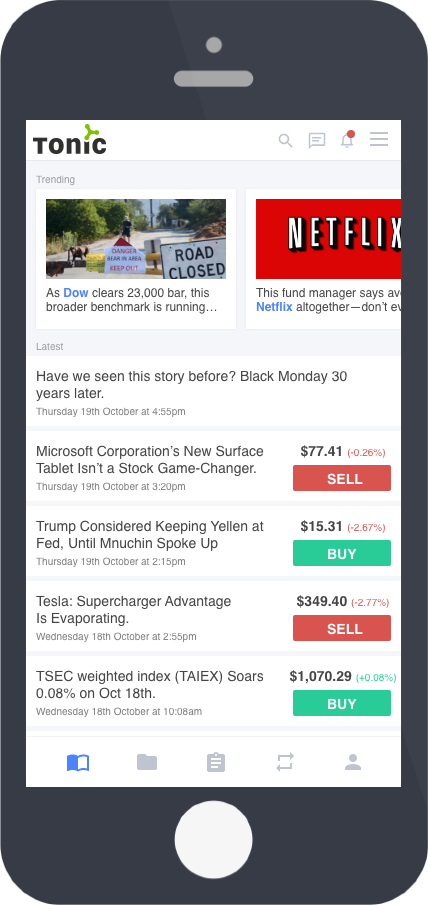 Back Office Wealth Management
Tonic is an all-in-one tool for Financial Services companies to manage all back office operations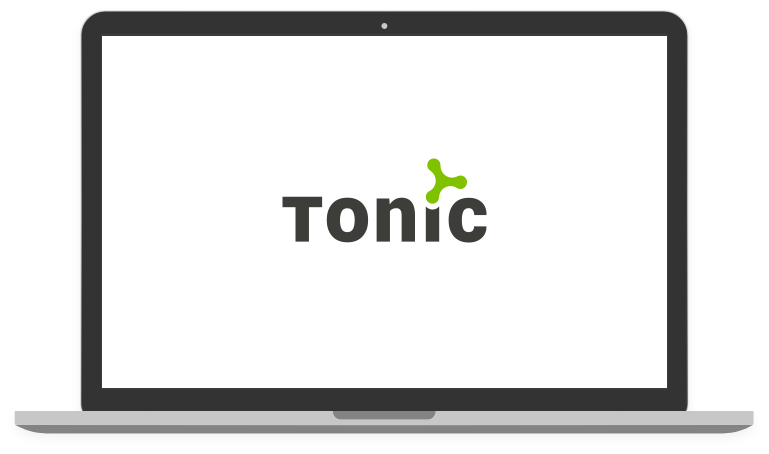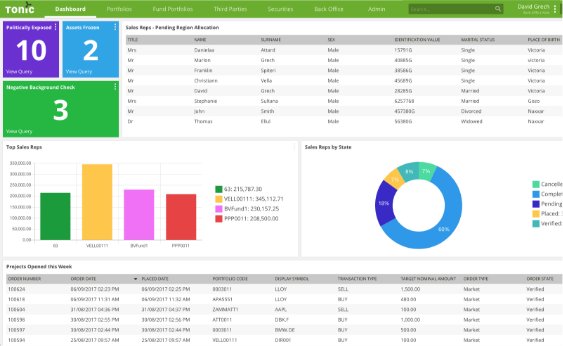 Customizable dashboard and query engine for custom reporting
dashboard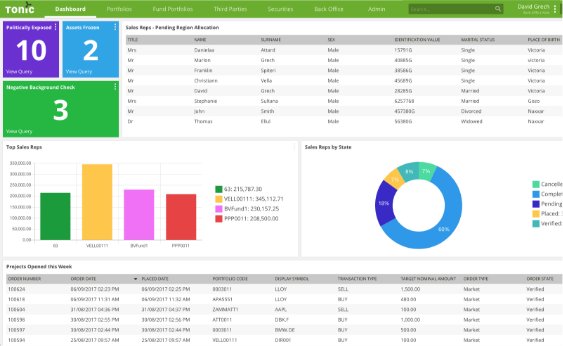 Customizable dashboard and query engine for custom reporting
timeline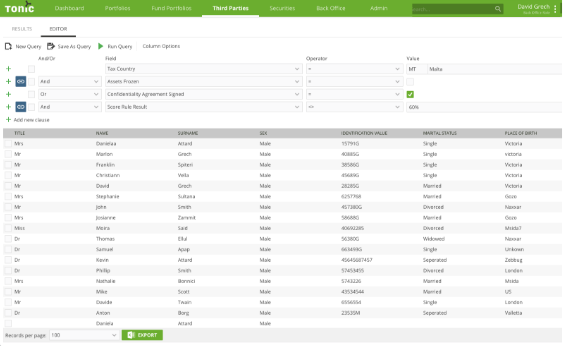 Portfolio Nav for benchmarking
network_check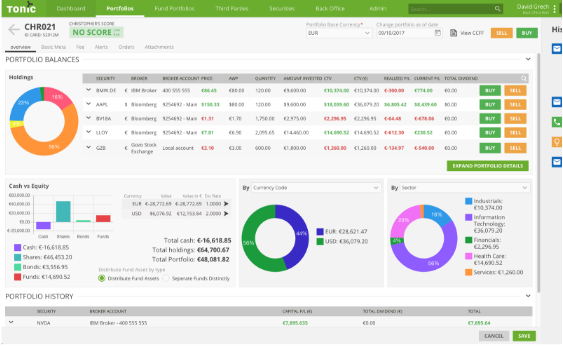 KPIs to deliver insight on portfolio management performance
folder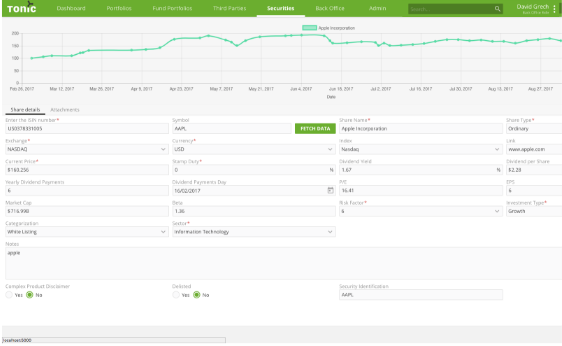 Portfolio Management and Reporting on current holding P/L
group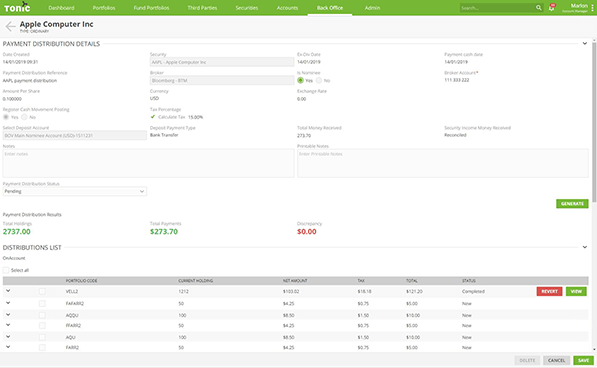 Corporate action execution and management
swap_horiz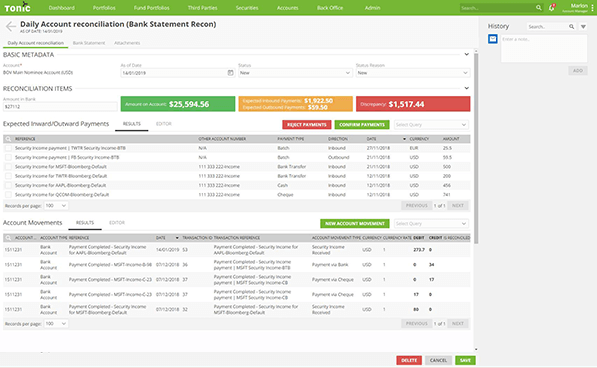 Cash movement reporting and reconciliation
Fund Administration
Tonic is a platform for Fund Administrators to manage their Funds end to end
Account Period management
Fee management and processing
Corporate action execution and management
Unit allocation and reporting
Automatic accruals calculation
Benchmarking of Fund performance
Generation of NAV and NAV Reporting
Automated Factsheet generation
For Wealth Managers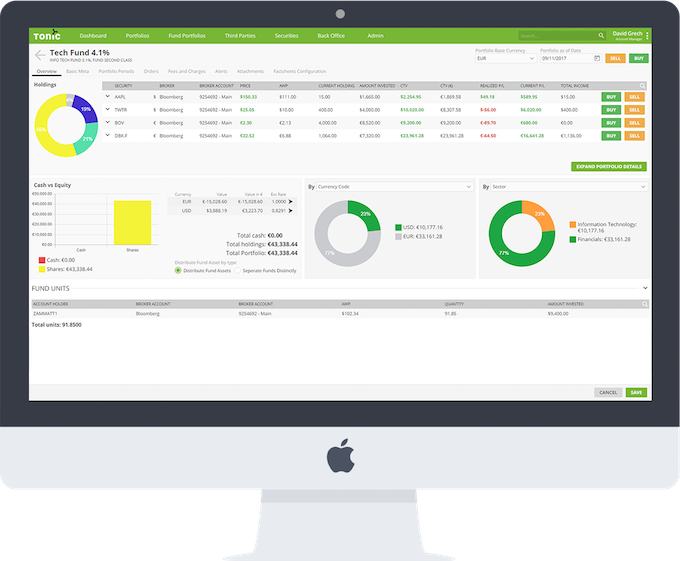 Insurance Lifecycle and Customer Journey
In a recent KPMG survey of CEOs in the financial services sector:
41% of CEOs said their company will be significantly transformed in the next 3 years by technological innovation.
77% of CEOs are concerned about their organizations keeping current with new technologies.
CEOs said technology was the 2nd biggest factor contributing to company growth; global economic factors took top place.
History repeating:


There is not a retail bank out there that can survive today without an engaging, customer centric, online approach.


KYC:


Customers in all sectors are more demanding, less loyal and more connected.
"Digital Darwinism is unkind to those who wait" - CEO of Software AG
What is the insurance sector doing about it?
Tonic offerings for Insurance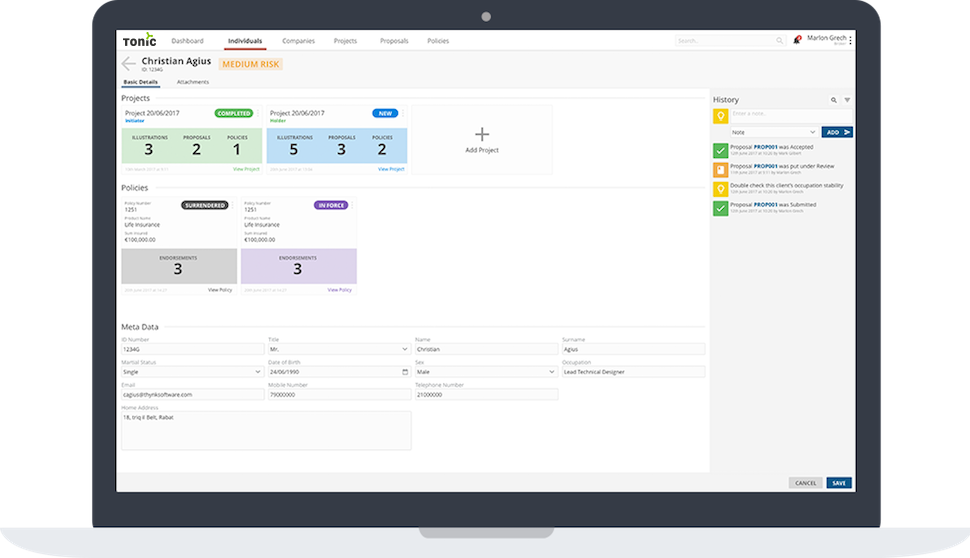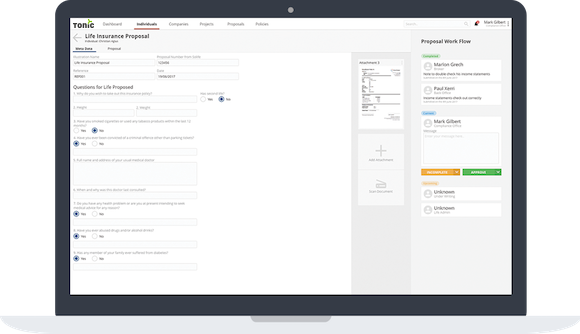 Tonic is a platform which enables Insurance firms to streamline the journey from lead to policy activation
On-boarding of new third parties
Rules engine to define KYC scoring
World Check integration
CRM capabilities with integrated document management
GDPR consent management
Easy configuration for adding custom Insurance products
Illustration generation
Dynamic Proposal Workflow
Policy Activation Workflow
Policy management and endorsements
For Insurance Principals, Agents and Brokers
Request a Demo
No binding obligations, no commitments
Thanks for reaching out. We'll get back to you shortly!
You like what you saw so far?
Check out our other area of focus
CUSTOM
Retail Banking Experiences
Silent Auction Platform
Custom Sales Platform
e-Document Platform
Ideas have no boundaries
Learn More
Testimonials
Simply put, Thynk Software delivers quality software on time; a software architecture that truly stands the test of time. Thynk built for us a sophisticated, yet easy-to-use, end-to-end e-Document solution that our clients absolutely love. Their elegance in software design has literally saved us millions as we evolved our product over many release cycles.

Wassim Melhem

Founder & CEO of Blueshift

The Thynk team gave us much more than we had hoped for. Not only was the quality of the solutions they developed for us world-class, but they challenged our thinking and made us upscale our own business ambitions to be a market leader in digital commerce and Fintech disruptors

David Horton

Managing Director of Innovation at Synechron

We challenged Thynk to design & create an app in 2016. As our expertise did not lie in the technology sector, it was imperative to employ a company that could not only deliver an amazing product on time, but also one that that could guide us through the process with an awful lot of patience.

We were absolutely blown away by the whole experience of working with the Thynk team. They were able to decipher exactly what we wanted to achieve and turn that into reality. The end product they delivered exceeded our expectations, was delivered on time and inside the specified budget. The aftercare service we have received since completion has also been extraordinary.

We couldn't recommend Thynk highly enough.

Sebastian Mahjouri

MD at Park Publishing Co Ltd