Materializing ideas into marketable products
Thynk Software is a hybrid between a product development and a software consultancy. Our primary objective has always been delivering maximum value to our international clients in the shortest possible timeframe.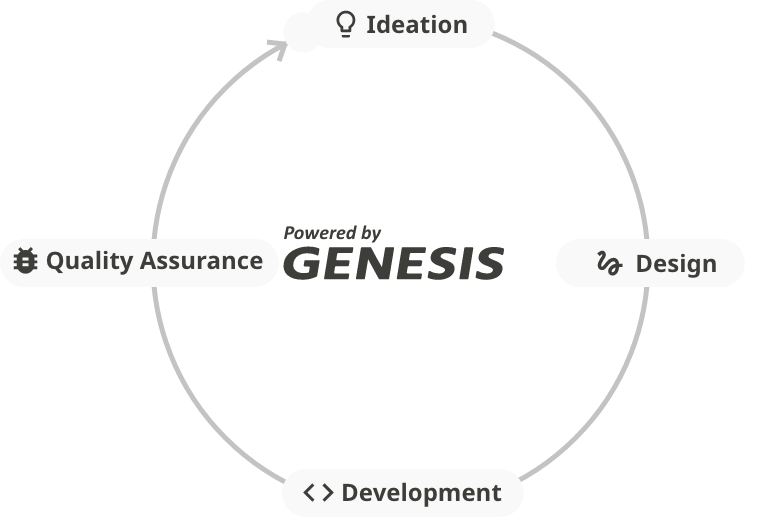 Ideation
An intensive collaborative project start up phase to structure ideas into use case scenarios and wireframes. It is iterative and creative and aligns project expectations between parties. The ideation phase enables us to get feedback on the proposed solution before even strating to build it.
Design
Great user experiences are part of our DNA. We adopt a minimalistic look and feel which makes our software look great but also super simple to use. To do this we hire the best designers and ensure they operate in complete freedom from development. We also have technical designer acting as the bridge between the development and the design world. A designer at heart but a developer at implementation.
Development
Development is our passion, pride and joy. We don't just make things work, we build them to scale and evolve over time. Our developers invest a large amount of time experimenting with the latest technologies to identify how they can be used tobring more value to our customers (also because we love it 😊).
Quality Assurance
Delivering quality to be proud of is something we can guarantee. Our Quality Assurance team focuses on building Test Cases to ensure that the software we build is aligned with the business use cases and that the experience is world class. Our Quality Assurance also take care of automating certain test cases to ensure that regression is never introduced.
Testimonials
Simply put, Thynk Software delivers quality software on time; a software architecture that truly stands the test of time. Thynk built for us a sophisticated, yet easy-to-use, end-to-end e-Document solution that our clients absolutely love. Their elegance in software design has literally saved us millions as we evolved our product over many release cycles.

Wassim Melhem

Founder & CEO of Blueshift

The Thynk team gave us much more than we had hoped for. Not only was the quality of the solutions they developed for us world-class, but they challenged our thinking and made us upscale our own business ambitions to be a market leader in digital commerce and Fintech disruptors

David Horton

Managing Director of Innovation at Synechron

We challenged Thynk to design & create an app in 2016. As our expertise did not lie in the technology sector, it was imperative to employ a company that could not only deliver an amazing product on time, but also one that that could guide us through the process with an awful lot of patience.

We were absolutely blown away by the whole experience of working with the Thynk team. They were able to decipher exactly what we wanted to achieve and turn that into reality. The end product they delivered exceeded our expectations, was delivered on time and inside the specified budget. The aftercare service we have received since completion has also been extraordinary.

We couldn't recommend Thynk highly enough.

Sebastian Mahjouri

MD at Park Publishing Co Ltd

We engaged Thynk Software on a pilot project to automate one of our primary business processes. Remarkably, they delivered on time, within our budget and most importantly exceeded the expectations of all key stakeholders. We credit this to their methodology, the flexible underlying framework and the competence of the entire team. In particular, their ability to translate complex business requirements into simplified user interfaces is second to none.

Paul Said

COO at GlobalCapital Plc